| | |
| --- | --- |
| | News |
Gradual maturation of the global reefer revolution and its impact on worldwide
Time:2022-06-09 14:41:54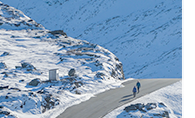 One reliable barometric reading on levels of world poverty has been the growth of international reefer markets. While its growth has easily outpaced other sectors, the refrigerated market, be it as containerised plug-in boxes or deployed in conventional bulk-loaded reefer ships, has well-nigh exploded in the last two years, notes a study by the Irish Shipbrokers & Chartering Ltd.
The reason the reefer market is such a bellwether in the area of world poverty eradication is that it is the poorer regions of the world whose produce require such technology to reach and dominate overseas markets.
Bulk loading reefer ships have been around for a long time, but while they delivered produce efficiently to market hubs, the economies of scale they provided, suited producers like the United Fruit Company and the like rather than smaller scale suppliers. And as the field expanded it moved from the classic banana boat to moving vast quantities of everything from fish to flowers.
The plug-in reefer box mitigated restrictions imposed by economies of scale by providing smaller operators the ability to develop niche markets of their own, which led to virtuous circles economic growth. The greater use made of the reefer boxes, the more useful and widespread it became the more accessible were these markets.
All this was happening in the natural course of development, which is to say in the absence of the great Covid scare that roiled freight markets worldwide for two years or more.
Shipowners in the conventional reefer market had exceptionally good years. This upturn in fortunes is reflected in Irish Shipbrokers & Chartering's in-house ISB Seafield Reefer Index, which closed 2021 on a six-and-a-half-year high of 1,841 points, an increase of 104.9 per cent year on year. The index averaged 1,517 points/week during the year, up 43.6 per cent from the previous years' weekly average.
"The index mirrors the rise in both spot and period reefer freight rates that we have observed across all of the primary reefer market segments including the sub segments in which we are also specialising," said the company.
The continued intensification in demand for conventional reefer capacity was driven by the ongoing problems with global container shortages, which in turn has been compounded by major disruptions to supply chains caused by the Covid crisis, it said.
According to recently published data global supply-chain disruption in the container markets saw container shipment rates soar by an average of 200 per cent over the 2021. The surge in demand contributed to widespread displacement of empty reefer containers from key loading ports. Faced with rising costs and lack of equipment, many reefer cargo shippers turned to conventional reefer vessels to fill the gap.
According to the United Nations Conference on Trade and Development (UNCTAD), shipping freight costs have contributed 1.5 per cent towards global inflation over the past 12 months. Shipping has become a major push factor now in driving inflation due to the shift change from a reasonably low and steady cost to an unprecedented explosion of freight charges.
In the smaller handysize reefer segment, time charter equivalent returns for owners averaged a 62.8 per cent year-on-year increase as enquiries from meat exporters in South America, among other non-core trades, took-up the slack from what was a quieter frozen fish market out of the key Moroccan/Mauritanian fishing grounds (22 per cent volume contraction year on year).
In the larger reefer segment, the market was also characterised by a lack of reefer container capacity in South and Central America, South Africa, New Zealand. Squid catches in the southwest Atlantic, often the bellwether for the larger reefer vessels market's direction during the first quarter – recorded a substantial improvement, with records indicating a 90 per cent increase in reefer capacity deployed in the trade during the 2021 season, setting a firm platform for upside in freight levels during the remainder of the year.
The larger reefer vessels are mainly trading in fruit/banana trades and as such the primary operators in these markets a sizeable increase in demand for reefers in the larger reefer segment, where returns averaged almost US$0.90 during the year, a remarkable 109.7 per cent increase year on year. This conversely has impacted the costs for the primary fruit/banana traders and producers.
The sharp rises in dry container freight levels and shortage of equipment also pushed some of this volume towards using breakbulk vessels, which drove up freight rates in these segments. Reefer vessels, due to their multideck, multipurpose configuration meant that they were also perfect substitutes for this cargo.
Despite booming freight levels, the conventional reefer fleet continued its contraction in 2021, with a net loss of 1.6 per cent) as rising demolition prices saw many owners of 1970s and 1980s-built handysize tonnage cash-in.
There is a certain level of artificiality about current trends in soaring freight rates. Yes, much has been driven by the Covid crisis, but more than that, the current phenomenal rate surge has been driven by official reaction to it. What was supposed to be helpful policymaking has turned out to be harmful both economically and injurious to public health.
Nonetheless, some of the unintended consequences have been beneficial. One can immediately point to the growth of telecommuting, which has reduced the need for intra-urban passenger transport. There has been the parallel development of ecommerce and its expansion, particularly in Japan of "dark kitchens", whereby international brands license and equip kitchens, to produce and deliver specific products like Big Macs, Whoppers, Pizza Supremes from a multiplicity of take away kitchens within easy reach of customers.
To which we can add the global reefer market and its phenomenal growth in that in a special way that has had a significant impact on global poverty eradication. What was once restricted to bananas, and delivered in such quantities as to chiefly benefit large corporations, now extends down the delivery food chain, through containerisation, to raise smaller economic players to the sunlit uplands of prosperity.