| | |
| --- | --- |
| | News |
Pity that Russia's invasion of Ukraine has made China's Sino-Europe rail freight
Time:2022-07-20 14:34:26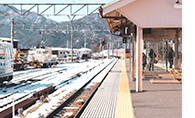 One of the more astonishing developments in the shipping world in the last decade has been the moving of goods from China by rail to western Europe. The jury is still out on whether the heavily subsidised China-EU rail route is economical, or ever will be.

The impetus for this development was the Go West campaign of 20 years ago, when the previous more liberal regime of Jiang Zemin and Hu Jintao, as well as the great and the good of the western financial world complained that the beneficiaries of the Chinese economic miracle unfolding since the 1980s were largely confined to the coastal regions while the interior was left to rot.

Long before the first Sino-EU train departed in 2011, from Chongqing in at the head of the Yangtze River navigation to the German city Duisburg, there was no question that north of the Great Wall development was long overdue. Labour was abundant, cheap, ready, willing and able to do what had to be done. Everyone acknowledged that there were enormous distances between manufacture, seaports and markets. So whatever incentives Beijing could devise to sweeten the deal were showered on foreign investors.

The rail route was one of them. This suited the high-value, low-cube electronic products freight trains were to carry. It would be cheaper and slower than air freight, but much faster than slower, albeit cheaper, sea freight.

How and when the China-EU rail idea came into being is uncertain, but in 2013, the embryonic service went through Kazakhstan, Russia. Poland, Germany and points west involving two costly changeovers from standard rail gauge to Russian gauge and back again to standard gauge when reaching western Europe.

All of which, whatever its flaws, dovetailed with the new Chinese leader Xi Jinping's ambitious plan to encircle the world with trade and influence through his Belt and Road Initiative. This, in both a literal and figurative way, was supposed to mirror the 13th century Silk Road China trade route to Europe travelled by Marco Polo.

Fast forward to the present. All was going well enough until Russia invaded western Ukraine, having already occupied the Russian-speaking Donbas region and the Crimea. Kuehne + Nagel International, one of Europe's largest freight forwarders, rejected rail cargo from China to Europe. But there are now other ways to use the China-Europe Railway Express without going through Russia to Duisburg from where various cargoes split up to take different trains to destinations from the UK to Spain.

Even with northern manufactures - much of it autoparts, computers and high-end consumables, one can take the southern route, cross the Caspian Sea on a boat train and rail onward through Tehran, Ankara, Sophia, Budapest, Vienna, Prague to Warsaw.

With war raging in Ukraine, exporters and logistics firms transporting auto parts, cars, laptops and smartphones are now looking to avoid land routes near combat zones. War risks and payment hurdles stemming from sanctions have been mounting.

It takes about two weeks to send Asian goods to Europe via rail compared with a month by ship. Some companies are switching to sea adding to congestion at ports, putting further pressure on global supply chains that are still reeling from Covid-induced manpower shortages. Some say a combination of air-sea solutions could help some automakers and electronics manufacturers prevent production disruptions despite a surge in costs.

"At times like these, it's more important for companies to get their goods delivered even if the cost of transport is higher," said Um Kyung-a, a transportation analyst at Shinyoung Securities in Seoul. "It's more important for them to keep production going."

Despite these strong motivating factors, the export volume on trains heading to Europe from the port of Dalian has been "greatly reduced," Chinese state media concedes. The shipments saw an average growth of more than 70 per cent in the first two months of the year. Representatives for China Railway did not respond to a request for details, said Bloomberg.

Last year, trains moved about 1.46 million containers carrying goods valued at about US$75 billion between China and Europe on these routes, or about four per cent of total trade between the two sides, according to estimates by Bain & Co.

The rail networks stretching from China, Kazakhstan, Russia, Belarus and beyond connect Chinese commercial centers such as Yiwu in Zhejiang province, Xian in Shaanxi, Zhengzhou in Henan, Chengdu in Sichuan and Wuhan in Hubei to European cities including Moscow, Minsk, Hamburg, Milan, Warsaw, Munich and Madrid. Apart from consumer electronics and autos, wood-based products and petrochemicals also use the service.

Last year, when online vendors rushed to meet a boom in demand for laptops and mobile phones during the pandemic, rail offered a crucial lifeline because some ports in China were locked down, said Helen Liu, a partner at Bain & Co in Shanghai. This year, consumer electronics are likely to be impacted the most if rail isn't used, she said.

Some companies that use the rail network - from Dell Technologies to IKEA and Toyota Motor Corp - have already paused their operations or sales in Russia. Still, the war in Ukraine hasn't stopped the rail traffic, with some trains as much as 500 metres long continuing to carry containers between Xian and Kaliningrad, the Russian enclave between Poland and Lithuania.

The Chinese have accomplished wonders with their rail networks. These unheralded feats have created unsung and completely unknown heroes in relatively recent times. Anyone who has travelled the 650 miles from Wuhan to Shenzhen has been thrilled looking out the window to see the train soar over long trestle bridges only to bore through mountains to soar once again over steep valleys as it again bores through the towering mountainous terrain.

Granted the jury is still out on the economics of the China-EU rail service, and the geopolitical conditions that shape conditions of its operations, but there is no doubt as the magnificence of its conception - and execution.